The Rt. Rev. A. Robert Hirschfeld, Bishop
The Rev. Miriam Acevedo, Priest-in-Charge

home | weekly bulletin | community | ministries | history | links | contact


Welcome to St. Stephen's Episcopal Church, "the little church
with the big heart." We are located on Pittsfield's historic Main Street, adjacent to Dustin Park. For driving directions, click here.

Our Sunday worship time is 9:30 a.m.. All are welcome, without exception.


---

Our Mission

We believe that all we are and all we have are gifts from God,
and we are thankful. It is our mission to share the love of God
with each other and with the rest of the world.


---
Visit us on Facebook
CORONAVIRUS/COVID-19 INFORMATION

Resources and updates for congregations can be found HERE


NEWS & NOTES

CHURCH SERVICES: As a result of the coronavirus pandemic, we are unable to hold services in the church building, or host other gatherings. All parish activity has migrated to Zoom or Facebook. Sunday morning services take place on Zoom at 9.30 a.m. with Liturgy of the Word. Rev. Miriam leads Noonday Prayer on our Facebook page each weekday at 12.00 p.m. She also holds a Friday morning Bible Study on Zoom at 9.00 a.m.

DIOCESAN PANDEMIC PROTOCOLS: Bishop Rob and the diocesan Short-Term COVID Task Force will continue to provide updates to policies. Our diocesan website offers recommendations for individual devotions and practices during the hiatus from worship in the church building.

ANNUAL PARISH MEETING: Our annual meeting was held via Zoom at 9.30 a.m. on Sunday, January 24. Thanks to all who attended and voted and will serve our parish in the coming year.

OUTREACH CONTINUES! By popular demand, after the success of the recent community outreach project, we plan to re-form our Outreach Team. In December we joined with Pittsfield Youth Workshop (PYW) to provide 65 Gift bags for the participants of the Pittsfield Meals on Wheels program. PYW decorated each bag with holiday stickers and greetings, and inserted a Christmas card for each recipient with holiday greetings from both PYW and St. Stephen's parish. The bags were delivered by the Meals on Wheels driver. The bags contain several disposable masks, hand sanitizer, cough drops, pkg. of tissues, a sleeve of individually wrapped hard candy, a pair of reading glass (Dollar Stores), etc. When the project was completed, our parish fund to support it had $245 surplus--thanks to the generosity of our members! The St. Stephen's community project committee recommended to our Vestry that this excess should be donated to the PYW food pantry, which supports the youth and their families. While PYW remains on remote programming, families can make an appointment to pick up food.


SUSTAINING EARTH, OUR ISLAND HOME: In the fall, our diocesan Sustaining Earth coordinator Deb Baker attended Sunday service to share information about the
carbon tracker and other resources for the parish and for individuals. For more information about this program and how to participate, visit the Sustaining Earth website.

LENT MADNESS! This winter, join the fun and learn about the lives of saints in the "wacky online Lenten devotion" that hopes to bring you "closer to the risen Christ" through the "saintly thrills and spills"of Lent Madness online or via the Facebook page.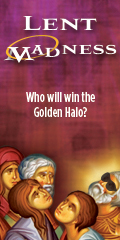 ASHES-TO-GO on Ash Wednesday 2020
OUR LAY MINISTERS COMMISSIONED BY THE BISHOP AT DIOCESAN CONVENTION 2019
BISHOP ROB & REV. MIRIAM
---
home | weekly bulletin | community | ministries | history | links | contact


Copyright © 2021 Stephen's Episcopal Church
All Rights Reserved.